DESCRIPTION
Dell Precision T7400 Professional Workstation:

Two (2) Intel Xeon (E5345) Quad Core 2.33GHz Processors (8 Processing Cores Total) / 4GB RAM / 160GB SATA HDD
Three nVidia Quadro NVS 290 Video Cards capable of running 6 simultaneous monitors!
Genuine Windows 7 Pro 64bit Operating System
Included:

Included:

Dell Precision T7400

Workstation Case
T7400 Workstation Motherboard
Two (2) Intel Xeon (E5345) Quad Core 2.33GHz Processors (8 Execution Cores!)
160GB SATA Hard Drive
Three nVidia Quadro NVS 290 Video Cards


4GB RAM


980 Watt Power Supply


DVD-ROM Drive


2 Heat Sinks
Operating System: Windows 7 Pro 64 Refurbished
COA: Windows 7 Pro 64-bit
Internal Fans
Power Cable

Condition:
Refurbished - Perfect condition, case may have some scratches
Warranty:
30 days warranty

Motherboard:

Socket/Processors:
Dual LGA771. Intel 5400 Series Xeon Processors Supported
Chipset:

Intel 5400 Chipset

Memory:
8 DIMM slots on board. 128GB Maximum with Additional Memory Risers
667/800Mhz ECC
Networking:

Integrated Broadcom 5754 Gigabit Ethernet controller

Slots:

2 PCI-E x16 Gen2
1 PCI-E x8
1 PCI
3 PCI-X
Audio:

AC97/ High Definition digital controller

I/O

Ports:

Eight USB 2.0: two on front panel, five on back panel, one internal (UDOC) on
motherboard; Two IEEE 1394a: one front, one rear; Two serial;
One parallel; Two PS/2; One RJ-45; Stereo line-in and headphone line-out on
back panel; Microphone and headphone connector on front panel
Ultimate Performance and Scalability
The Dell Precision T7400 is an ultra-high-performance workstation designed to maximize performance and scalability. The Dell Precision T7400 features the newest, and most powerful, multicore Intel Xeon processors, as well as advanced memory, graphics and RAID options to power through the most complex applications. Dell partners with leading independent software vendors (ISVs) to certify system and application compatibility so that your applications can run gracefully right out of the box.
New Heights of Scalability
The Dell Precision™ T7400 is in a class of its own among Dell workstations. The T7400 climbs to new heights of scalability by supporting dual-graphics, Genuine Windows® 7, up to 64GB of 800MHz fully buffered DIMM memory with higher bandwidth quad-channel memory architecture, and up to two 64-bit quad core Intel® Xeon® processors. Memory scalability is up to 128GB. Because business needs differ, the Dell Precision T7400 delivers great flexibility in system configurations to meet your future needs.
High Performance = Maximum Productivity
Choose from the latest Intel 64-bit multicore Xeon processors with up to 1600MHz front side bus to power the Dell Precision T7400. The Dell Precision T7400 is designed to scale as your application and workload demands change. The new Intel Xeon quad-core processors, with up to 12 MB cache and up to 1600 MHz dual independent front side busses, provide up to 12.8 GB bandwidth path for data between processors, memory and chipset.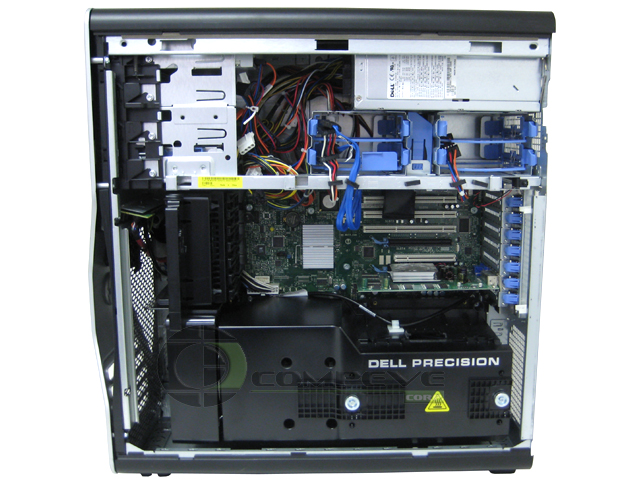 ---