DESCRIPTION

Dell PowerEdge 2850 PE2850 Server 2U
Two Intel Xeon 3.2GHz Processors, 2GB Ram
Manufacturer:
DELL
Model:
PowerEdge 2850
Form Factor:
2U
Processors:
Two Intel Xeon 3.2GHz processors
Front Side Bus:
800MHz
Chipset:
Intel E7520
Installed Memory:
4 x 512MB PC2-3200 DDR2 SDRAM, 256MB SCSI Controller RAM
We have more memory available. Contact us for great deals on it.
Hard Drive:
Not included, caddies not included
Video:
ATI Radeon 7000-M video controller with 16MB SDRAM
Optical drive:
CD-ROM
Power Supply:
Dual 700 Watts PSU's
Included:
DELL PE2850 2U server
Only 4 blanks included. Caddies are not included.
(operating system, software, hard drive caddies, rack rails are not included)
Condition:
Refurbished - in perfect working condition (Server has some scratches on the casing)
Warranty:
30 days
General Specifications:
Form factor 2U rack height
Processors Up to two single-core 64-bit Intel® Xeon™ processors at up to 3.8GHz or up to two dual-core 64-bit Intel Xeon processors at 2.8GHz
Front side bus 800MHz
Cache Up to 2MB L2 per processor core
Chipset Intel E7520
Memory 256MB/12GB DDR-2 400 SDRAM; 16GB with availability of dual rank 4GB DIMMs2
I/O channels Three total: three PCI-X® slots (64-bit/133MHz) or two PCI Express™ slots (1 x 4 lane and 1 x 8 lane) and one PCI-X slot (64-bit/100MHz)
Drive controller Embedded dual channel Ultra320 SCSI; internal and external routing
Drive bays Six 1" Ultra320 hot-plug SCSI drives or five drive bays and one tape drive bay
Maximum internal storage Up to 1.8TB with 300GB HDD
Hard drives3 36GB, 73GB, 146GB and 300GB (10,000 rpm) Ultra320 SCSI 18GB, 36GB, 73GB and 146GB (15,000 rpm) Ultra320 SCSI
Internal storage 10K/15K RPM SCSI drives
External storage Dell PowerVault™ SCSI and Dell/EMC fibre channel storage
Tape backup options Internal: PowerVault 110T External: PowerVault 114T, 124T, 132T and 136T
Network interface card Dual embedded Intel Gigabit4 NICs; single and dual port Intel PRO/1000 MT Gigabit adapters, Intel PRO/1000 MF (optical)
Power supply 700W, optional hot-plug redundant power
Availability ECC memory; Single Device Data Correction (SDDC); Spare Bank; Memory Mirroring; hot-plug SCSI hard drives; optional hot-plug redundant power; hot-plug redundant cooling; tool-less chassis; high availability fiber channel and SCSI cluster support; optional ROMB with battery-backed cache; optional Split Backplane; optional PERC RAID controller
Video Embedded ATI Radeon 7000-M with 16MB SDRAM
Remote management Baseboard Management Controller with IPMI 1.5 compliance, accessible via network or serial port; optional slot-free DRAC 4/I
Systems management Dell OpenManage™
Rack support 4-post (Dell rack), 2-post and 3rd party; Cable Management Arm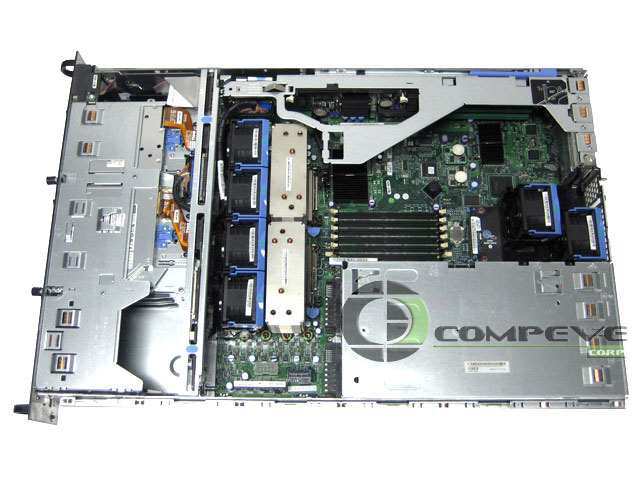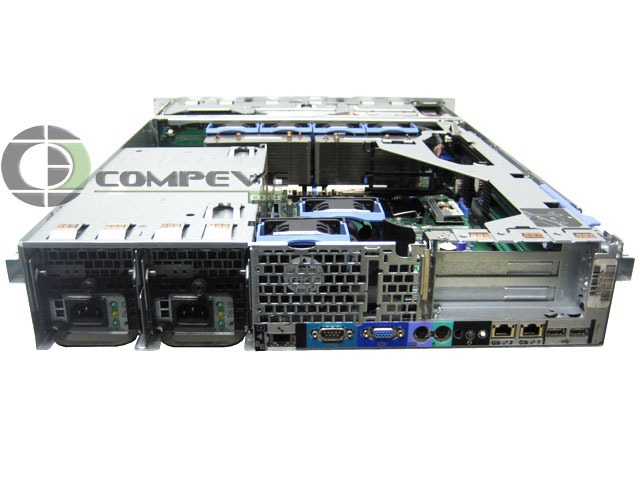 Expandable Performance
With up to six hard drive bays, up to two Intel® Xeon™ processors (single-core or dual-core) supporting an 800MHz Front Side Bus and up to 16GB2 of DDR-2 memory, the PowerEdge 2850 server is designed for top-notch performance today and the ability to expand in the future. And it packs all of this into a space-conscious 2U chassis. Additionally, the system includes support for PCI Express™, the latest development in I/O throughput that helps your server keep pace with advances in I/O technologies. Plus, the PowerEdge 2850 server is designed to support expansion with Intel Extended Memory 64 Technology that supports both 32-bit and 64-bit applications enabling you to easily expand into 64-bit technology.
Uncompromising Availability
The PowerEdge 2850 server addresses the need for high availability in intense network applications. It features optional hot-plug redundant power supplies and standard hot-plug hard drives, RAID 0, 1, 5, 10 or 50 support for data redundancy, an optional internal tape drive for local data backup, Memory Mirroring and redundant Network Interface Controllers to keep your systems running while protecting your data. Additionally, support for high availability SCSI or fibre channel clustering provides flexible, scalable availability.
Manageability and Serviceability
Simple yet powerful management features, both local and remote, are key benefits of the PowerEdge 2850 server. PowerEdge 2850 includes a standard Baseboard Management Controller that is compliant with Intelligent Platform Management Interface (IPMI) 1.5 so that you can manage your systems from anywhere, anytime with any management program that supports IPMI. The optional DRAC 4/I remote management card with continuous video monitoring, virtual floppy/CD access and Active Directory integration provides an additional level of manageability. Additionally, it shares common BIOS and drivers with PowerEdge 1850 and 2800 servers making it easy to perform software upgrades and maintenance while helping to reduce Total Cost of Ownership.