DESCRIPTION

Nidec Gamma 30 (Gamma30)
Ball Bearing Blower (Centrifugal Fan)
Fits Supermicro Servers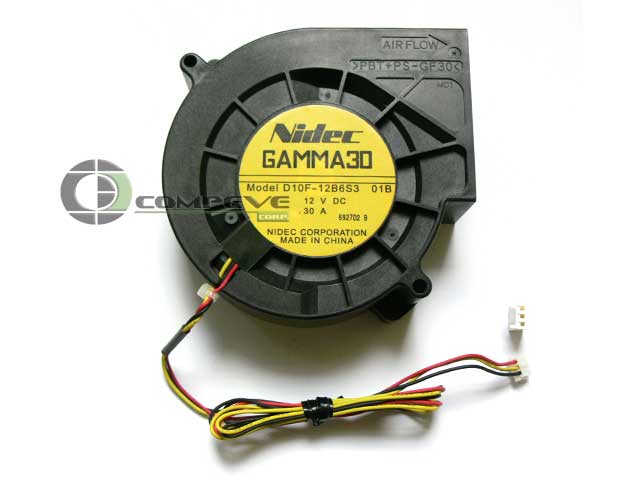 Features:
Nidec Gamma30 model: D10F-12B6S3
25CFM Air Flow Rating
Polarity Protected
Frame and Impeller Rated V-0
Permanently Lubricated Ball Bearings
Alarm/Tachometer/Thermal Speed Controller Option
Color-Coded 11.8 in (300mm) Leads

3.83"x3.72"x1.30" (97x94x33mm)
plastic Squirrel cage
12V (10.2-13.8v)
57.4dBA
Ball Bearing
Fan speed - 3800rpm
Three lead wires, two power terminations. Open-collector tachometer circuit terminated in third lead wire.

Click here for Nidec Gamma30 Specifications:

Condition: New, OEM
Included: Nidec Gamma 30 fan + 2 types of (female) connectors
Warranty: 14 day DOA
Customers who bought this product also purchased...