DESCRIPTION
Pioneer SP-BS41-LR Bookshelf Loudspeakers 130W Audiophile Hi-Fi Speaker Pair
Created by world-renowned speaker engineer Andrew Jones
| | |
| --- | --- |
| Manufacturer: | Pioneer |
| Model Number: | SP-BS41-LR |
| Maximum Input Power: | 130W |
| Sensitivity: | 85 dB |
| Crossover Frequency: | 2.5kHz |
| Woofer: | 5 1/4" |
| Configuration: | 2-way |
| Enclosure: | Bass-reflex Bookshelf Type |
| Nominal Impedance: | 6 Ohms |
| Speaker Driver Material Type: | Polypropylene |
| Dimensions: | 7-7/8" x 13-3/4" x 8-11/16" |
| Condition: | Brand New, Sealed |
| Included: | Two Speakers Only |
| Warranty: | 30 Days |
70 Years of Audio Firsts
These speakers come with a remarkable pedigree of over 70 years of Pioneer audio heritage and industry firsts. Like every speaker we build, these are engineered to offer incredible design and amazing sound quality. But then that's exactly what you'd expect from speakers designed by internationally renowned speaker engineer Andrew Jones. As Pioneer's Chief Speaker Engineer, Andrew has designed some of the world's finest loudspeakers, some costing as much as $70,000. Now he has brought his high-end expertise and passion to the creation of this affordable bookshelf speaker. And while the price is considerably lower than some of his other efforts, the expectation and delivery of accurate sound reproduction is the same.
Thinking Out Of The Box
Typically you'll find most bookshelf speakers not only come in a box, they are a box. And while that might be better for production costs, it isn't better for sound reproduction. The SP-BS41-LR speakers utilize a true curved cabinet design. So besides the aesthetics being considerably more pleasing, this stiffer design reduces standing sound waves inside the cabinet, resulting in high-performance and exceptional sound quality.
As you look at them, you'll also notice our unique speaker grills. They're beautiful and elegant in their own right, but not for their own sake. This visually pleasing design also has a specific function, which is doing a superior job of protecting the speaker drivers.
The Inside Story
The job of the cross-over in a speaker is to break the audio signal into low, high and sometimes mid-range frequencies. It's an important job, and it uses circuitry like inductors and capacitors to accomplish it. Much of the competition uses an extremely simple, low-cost cross-over made up of a single capacitor and inductor. The Pioneer SP-BS41-LR utilizes a sophisticated 6 component high-quality cross over. The reasoning is simple: we do it because it's one more way of insuring high-quality sound that makes its presence known.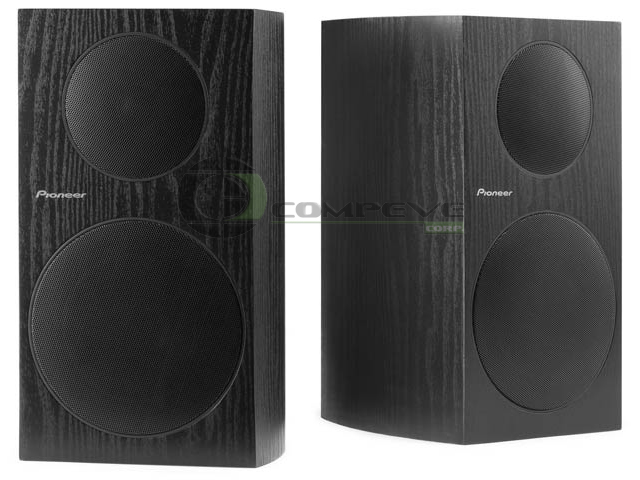 ---