DESCRIPTION

IBM Lenovo ThinkPad X6 UltraBase Docking Station
Part Number: 40Y8116
FRU Part Number: 42W4634
Docking station for x60 series laptop computers
Manufacturer:

Lenovo

Part Number:

40Y8116

Product Line:

ThinkPad

Product Type:

Docking Station

Compatibility:

X60 Lenovo Notebooks

Included:

Docking Station
Keys
Quick Start Guide
User Manual

Condition:

New, Sealed

Warranty:

30 Days
Features and Specifications:

The ThinkPad X6 UltraBase (40Y8116) snaps easily onto your ThinkPad X60 Series system for portable expansion. It offers:
An Ultrabay Slim for device expansion:
Ultrabay Enhanced for device expansion - Supports the following bay options:

ThinkPad Ultrabay Slim DVD Burner - Parallel ATA (41N5643) offers rewritable DVD technology suitable for archiving data or authoring DVD video content.
ThinkPad Serial ATA Hard Drive Bay Adapter (40Y8725) enables you to add a second ThinkPad notebook Serial ATA hard disk.
ThinkPad Advance Ultrabay Battery II (43R9250) for all-day computing

Standard communication and device ports, including Gigabit Ethernet (RJ-45), modem (RJ-11), four USB 2.0, serial and parallel
Audio/video capabilities including VGA for external monitor, microphone in, headphone out, and integrated stereo speakers
Integrated key lock and cable lock slot physically secures the ThinkPad system and ThinkPad X6 UltraBase

The cable lock and key lock operate seperately
The cable lock secures the ThinkPad X6 UltraBase to the workspace (desk, table, pole, furniture, wall)

The cable lock slot supports attachment of Kensington Cable Locks from Lenovo.

The separate key lock, on the side of the ThinkPad X6 UltraBase, secures the ThinkPad to the ThinkPad X6 UltraBase

To remove the ThinkPad, from the ThinkPad X6 UltraBase, the user turns the seperate key. The user does not need to remove the cable lock from the ThinkPad X6 UltraBase
Includes two security keys

System power-on button and easy ejection lever
Power passthrough to fuel your system and recharge the battery
Supports the ThinkPad Advanced Ultrabay Battery for up to 11 hours of mobile computing when used in combination with the high-capacity system battery on select models
PC99/PC2001 Compliant (Audio)
Supports Ultrabay Slim Plus (9.5mm bay)
Stereo speakers
Supports bay battery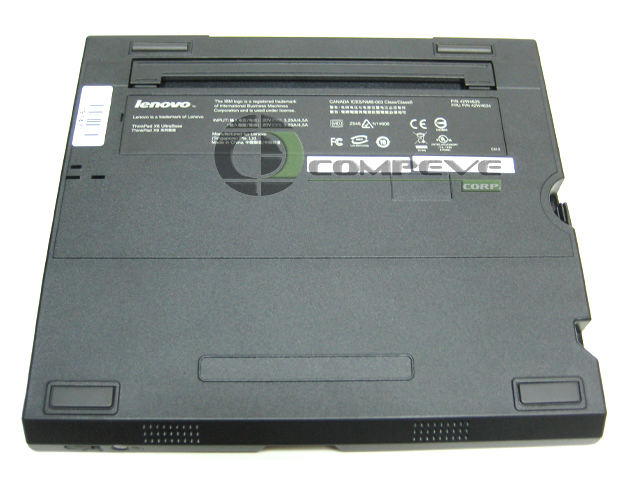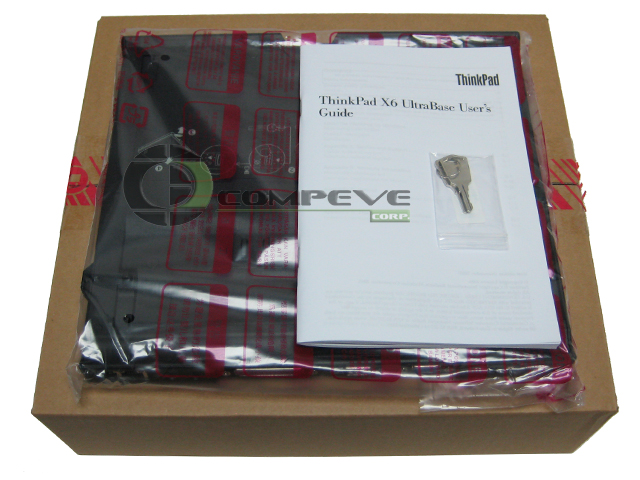 Customers who bought this product also purchased...