DESCRIPTION
HP XW8200 Dual Intel Xeon Workstation Motherboard, 800MHz FSB,
350446-001,
347241-004
up to 16GB RAM, PCIe-x16
HP Spare: 350446-001
HP Assembly: 347241-004
Top-of-the-line Intel®-based personal workstation.
Satisfy your insatiable demand for performance and
expandability.
Combining the highest processing and I/O power from
Intel with the latest graphics technology from leading
graphics providers, the HP xw8200 Workstation delivers
dual-processing performance, large computational and
visualization capacity, expandability and HP's renowned
reliability. A broad range of ISV-certified 3D and 2D PCI
Express (PCIe) graphics solutions are available, along
with operating system choices to best fit your
requirements. Supporting Extended Memory 64
Technology (EM64T)i, the HP xw8200 Workstation is
engineered to meet your present and future business
demands.
Get the highest performance Intel technology available
on a personal workstation
Intel's E7525 high-end performance chipset for Intel®
Xeon® processors supports dual processing, an 800 MHz
system bus (6.4 GB/sec bandwidth) and a dual-channel
DDR2 400 MHz SDRAM memory subsystem, putting
increased power and efficiency behind demanding
applications.
Expand to meet your performance and storage needs
Supporting up to five internal HDD, three optical disks,
two PCIe, three PCI-X (1 x 133 MHz and 2 x 100 MHz),
and 2 PCI slots, the HP xw8200 provides the hard disk
space and performance needed for large models and
storage-intensive projects.
Handle very large and complex data sets
The HP xw8200 implements 8 memory DIMM slots. With
2 GB DIMMs, the HP xw8200 can achieve the largest
memory configuration supported by the Intel E7525
chipset - 16 GB on Linux and the Microsoft Windows XP
Professional x64 Edition.
Enable advanced, high-perfomance visualization
The PCIe x16 graphics interface provides 4x the total
peak bandwidth and 2x the unidirection bandwidth of
AGP 8X graphics. HP workstations offer a wide range of
graphics choices for applications that are fully supported
on the HP xw8200 platform.
Custom configure your workstation
HP Performance Tuning Framework, available on HP
workstations with Microsoft® Windows®, will guide your
setup, allowing a "custom" configuration that best
matches the workstation to user requirements. This
customization facilitates availability of the latest graphics
drivers and removes some memory constraints.
Manufacturer:
HP
Compatibility:
HP XW8200 workstation
Socket:
Dual 604
Chipset:
Intel E7525
HP Part:

HP Spare: 350446-001
HP Assembly: 347241-004

Supported CPU's:
Single or dual Xeon (800Mhz FSB)
Memory:
8 slots, up to 16GB -

PC2-3200 ECC REG

Networking:
Integrated Gigabit Ethernet
Slots:
PCI Express x16 ( 1 )
PCI Express x8 ( 1 )
PCI ( 2 )
PCI-X / 100 MHz ( 1 )
PCI-X / 133 MHz ( 1 )
Controllers:
Intel Integrated 82801ER (ICH5)
UltraATA-133 ( 2 )
LSI Logic® Integrated 53C1030 , Ultra320 SCSI ( 2 ) (68-PIN)
SATA ( 2 )
Ports:
6 x Hi-Speed USB
1 x Serial - RS-232 - 9 pin D-Sub (DB-9),
1 x Parallel - IEEE 1284 (EPP/ECP) - 25 pin D-Sub (DB-25)
1 x Keyboard - Generic - 6 pin mini-DIN (PS/2 style)
1 x Mouse - Generic - 6 pin mini-DIN (PS/2 style)
1 x Network - Ethernet 10Base-T/100Base-TX/1000Base-T - RJ-45
1 x Audio - Line-in - Mini-phone stereo 3.5 mm
1 x Audio - Line-out - Mini-phone stereo 3.5 mm
1 x Microphone - Input - Mini-phone stereo 3.5 mm
1 x IEEE 1394 (FireWire)
Condition:
Refurbished
Warranty:
30 days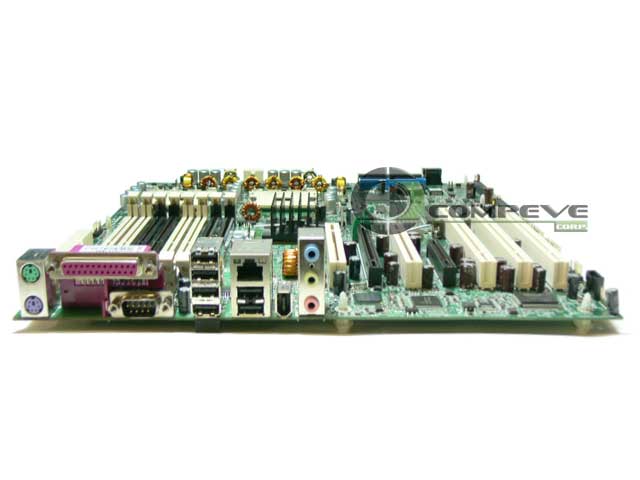 Customers who bought this product also purchased...