DESCRIPTION
Dell PowerEdge 1950 II 1U Server
With Two Dual Core Xeon 5140 2.33GHz Processors, 4GB RAM, and Two 74GB 15K SAS Hard Drives

Dell PowerEdge 1950 Components:

Specifications:
Processor(s): Two Intel Xeon 5140 Processors at 2.33GHz, 4MB L2, 1333Mhz FSB
Memory: 4GB DDR2 Fully Buffered Memory
Hard Drive(s): Two 73GB 15K RPM SAS Hard Drives
Power Supplies: Two 670 Watts Power Supplies
Optical Drive: CD-ROM
Included:
Server and Power Cord
CoA, Bezel, Rails, Documentation, and Other Accessories - Not Included

Condition:
Refurbished - Perfect working condition, case may have few scratches
Warranty:
30 days

PE1950 Motherboard Specs:

Sockets:
Dual LGA 771 Sockets
Supported CPU's:
Up to two Quad-Core Intel Xeon 5300 sequence processors at up to 2.66GHz;
Up to two Dual-Core Intel Xeon 5100 sequence processors at up to 3.0GHz;
Up to two Dual-Core Intel Low Volt Xeon 5148 processor at 2.33GHz;
Up to two Dual-Core Intel Xeon 5000 sequence processors at up to 3.0GHz
Chipset:
Intel 5000X

Graphics:

Embedded ATI ES1000 with 16MB memory
Memory:
256MB/512MB/1GB/2GB/4GB Fully Buffered DIMMs (FBD) in matched pairs; 533MHz or 667MHz; 8 sockets for support up to 32GB
Storage Controller:
Integrated SAS 5/i(base): 4 port SAS controller. Does not support RAID
Network:
Dual embedded Broadcom® NetXtreme II™ 5708 Gigabit Ethernet NIC with fail-over and load balancing TOE (TCP/IP Offload Engine) supported on Microsoft Windows Server 2003, SP1 or higher with Scalable Networking Pack

Outputs/Inputs:

Rear: 2 x USB 2.0 ports, 1 x video connector, 1 x serial connector, 2 x RJ-45 connectors
Front: 2 x USB 2.0 ports, 1 x video connector

---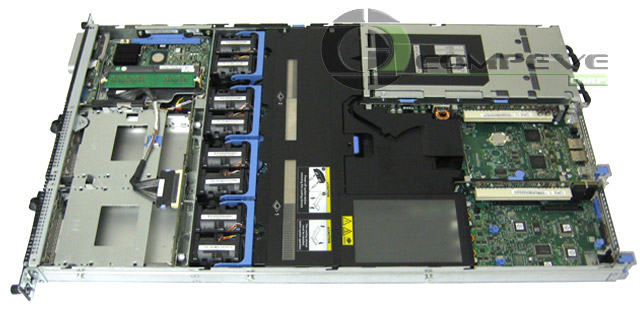 ---

Increased Commonality = Reduced Complexity
Only Dell delivers next-generation servers specifically designed to reduce complexity.

Hence, it's easier than ever to manage Dell servers through innovative design changes and increased management functionality, including a new Behavioral Specification that helps ensure consistency is maintained over future generations.

Plus, Dell's industry-leading software commonality takes steps to help reduce software complexity and drive down the number of updates.